Get Well Soon, Johnny
Wishing you a speedy recovery and sending lots of positive vibes your way.
We all love you very much.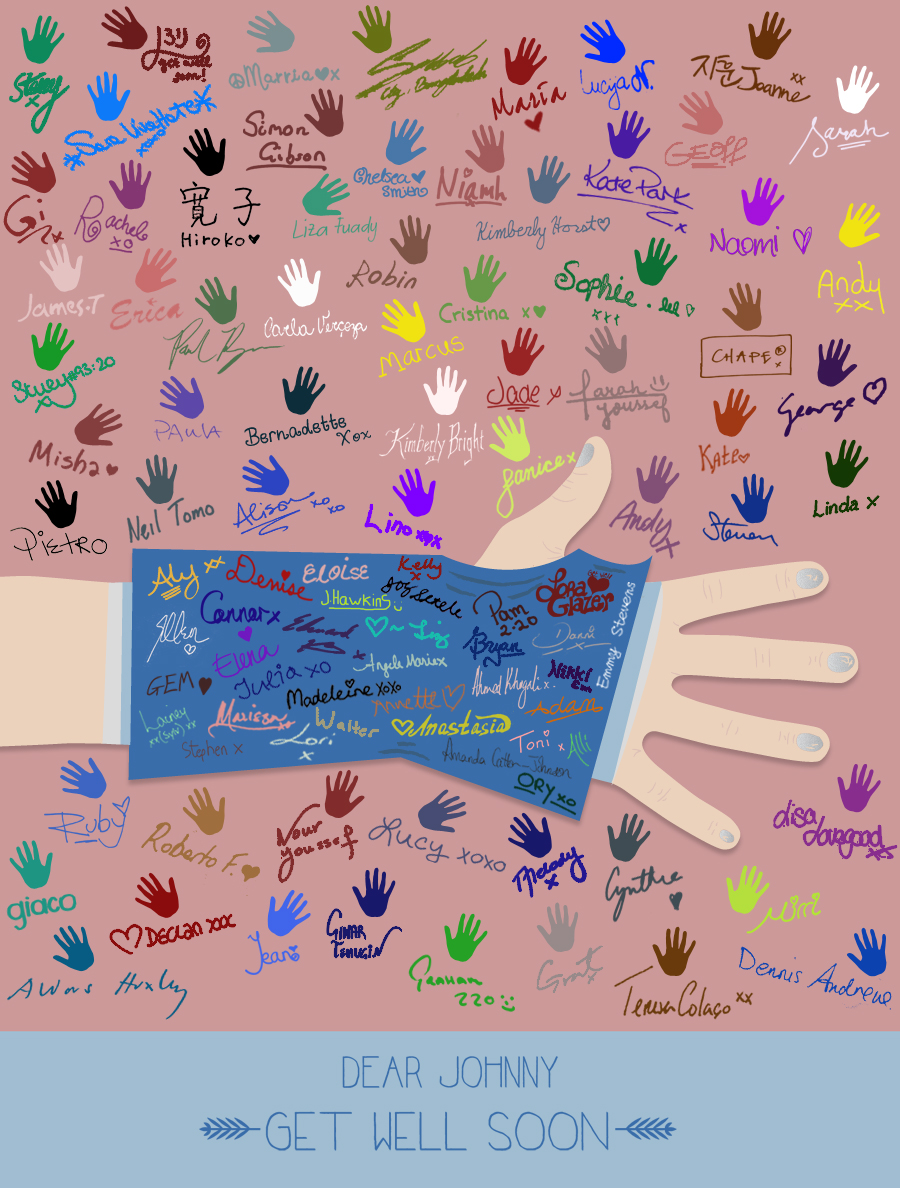 From Aly & Ory + Adam Crame, Ahmed Khogali, Alison Behnke, Alli, Amanda O'Mahony, Anastasia Hykava, Andrew Campbell, Andy Scapetti, Angela Marie, Annette, Bernadette Rumsen, Bryan Hanley, Carla Verçoza, Chape C., Chelsea Smith, Chris Marr, Çinar Temuçin, Connor Whyte, Cristina Valero Hernández, Cynthia Lesslar, Danni Casey, Declan Ó Catháin, Denise Brodsky, Dennis Andrew, Edward Maddox Kim, Elena Vignolini, Eline Lino Skauge Skogsrud, Ellen Leerburger, Eloise Kim, Emmy Stevens, Erica Calil, Farah Youssef, Gemma Faulkner, Geoff Fender, George Leask, Giselle Hidalgo, Graham Chard, Grant MacDonald, Gustavo Giaco, Hiroko Oshima, Jade Bailey, James Tobin, Janice Trygar, Jean, Joanne Lee, Joshua Hawkins, Joy Setele, Julia Sandoval, Kate Hykava, Kate Park, Kelly Marie Fox, Kimberly Bright, Kimberly Horst, Lainey (Sylv), Linda Poulnott, Lisa Lovegood, Liz Walker, Liza Fuady, Lora Glazer, Lori, Lucia Naletilic, Lucy Ryan, Madeleine Kohar, Marcus Black, Maria, Marissa Rivera, Marria, Melody, Mirri, Misha R. Dietrich, Naomi Rosenberg, Neil Tomo, Niamh McGuiness, Nikki Em, Nitzan Pincu, Nour Youssef, Pamela Schofield, Paul Ryan, Paula Meehan, Pietro, Rachel Connell, Roberto Ferdenzi, Robin Anderson, Ruby, Sabbab Hossain, Sara VivaHate, Sarah Barton, Simon Gibson, Sophie Williams, Stacey, Stephen Sanders, Steve Domenico, Stuart Jones, Teresa Colaço, Toni Sutton, and Walter Frith.