Just A Modern(ist) Guy
'The society and I are very much on the same page when it comes to getting away from the usual cliched, generic ideas of what Manchester is about',
Johnny Marr recently told The Guardian - refering of course to the
Manchester Modernist Society
, a self- described group of "urban enthusiasts, amateurs and latter day dandies, and passionate observers of the city" that Johnny found himself drawn to last year, after reading their quarterly publication,
'The Modernist'
.
To those aware of both the society's work and Johnny's own interests in architecture and modernism, Johnny's recent appointment as their official patron would seem like the only logical next step. We caught up with the society's co-founder, Jack Hale, to chat about Johnny's involvement with the organisation.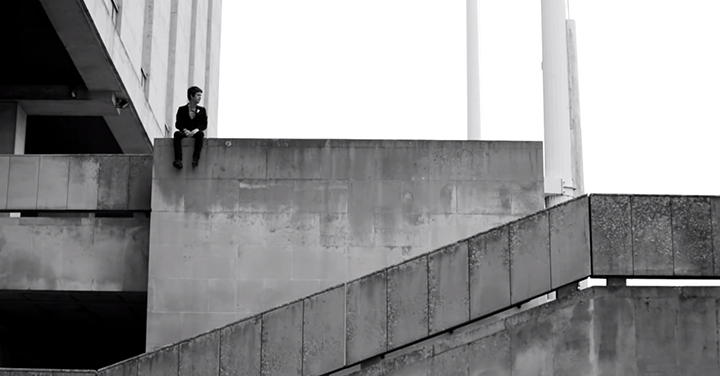 How did you - or the Manchester Modernist Society in general - first cross paths with Johnny?
We spotted that Johnny had used lots of twentieth century buildings around Manchester in his video for 'New Town Velocity'. This showed a side to Manchester that we like to promote and so we decided to give him a 'membership' of the Society 'for services to Manchester Modernism', and we sent him a badge. We didn't know whether he would really be bothered or not.
Later via Twitter we saw a conversation where someone asked Johnny 'what was that red badge you were wearing on the Tonight Show last night?' That must be our badge, I thought. I looked it up on Youtube and there it was. Later Johhny got in touch and asked if he could pop into our office to pick up a few magazines. He told me that he'd been sent one of our magazines by a fan and that the articles that we include are really interesting to him. We chatted about cities and design and Manchester, and seemed to have a lot of ideas in common.
Johnny was nice enough to mention the Modernist Society and the Magazine on Twitter and suggested he might be able to support us in other ways, like selling the mag at his Manchester gig. He also supported our recent campaign to crowd-fund a redesign of the magazine and we asked him to become our Patron.
What is it about Johnny that makes him such an ideal patron for your organisation?
Having spoken to Johnny, I realised that he had a very genuine and strong interest and knowledge about Modernism, cities, urban design and lots of the things that the Society and the magazine get involved in. As one of Manchester's most famous and most admired sons; and as someone who was very happy to get involved with us, he seemed an ideal person to ask to be our Patron. It's his genuine interest in the subject that makes him ideal. I don't think he's the kind of person to do a 'celebrity endorsement' for something he doesn't really believe in.
What does his patronage actually involve?
That's a funny one, really. I don't think there is an actual job description anywhere. It really means that someone with some influence - such as a well known person - agrees to support the work of a charitable organisation in whatever way they can. As far as Johnny is concerned, this has been through him generally promoting us and our work. For example he recently listed us as one of his 'cultural highlights' in a piece in The Guardian newspaper, and this resulted in a big spike in sales of things from our web-shop and in people joining our mailing list.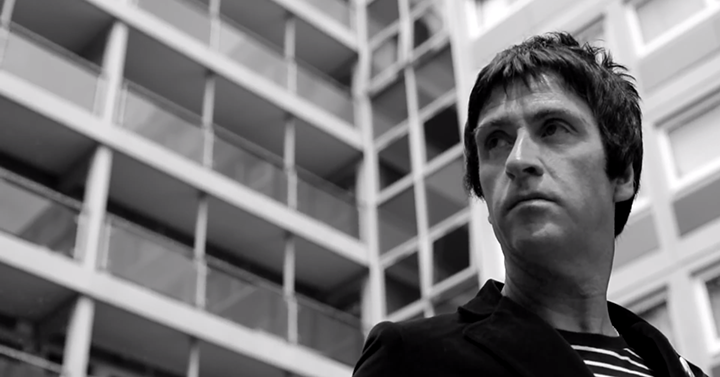 Johnny has been wearing Manchester Modernist Society badges on stage for a while, but were you surprised to see him wearing one in the official video for 'Easy Money' as well?
Yes, it was a surprise to see the badge in the video. I can't pretend it doesn't give me a little thrill to see something that I have been involved in, on the telly. And again, I think it shows how happy Johnny is to support us. I thought the picture of Johnny wearing the badge next to the picture of Prime Minister David Cameron was particularly funny... I don't think either of us like Mr Cameron very much.
We're aware that the Modernist magazine was sold as merchandise at some of Johnny's recent UK shows, and Johnny often promotes MMS activities via his Twitter account as well. What other plans do you have for working alongside Johnny in the future?
Johnny is on tour at the moment, but he did mention getting together when he comes back, to talk about what else we might do together. Who knows what that could bring... watch this space!
Jack Hale is the co-founder of the Manchester Modernist Society and co- editor and publisher of The Modernist magazine.
Interview by Aly Stevenson, originally published in issue #2 of our fanzine, Dynamic. 'New Town Velocity' screenshots reproduced with kind permission from Mat Bancroft.